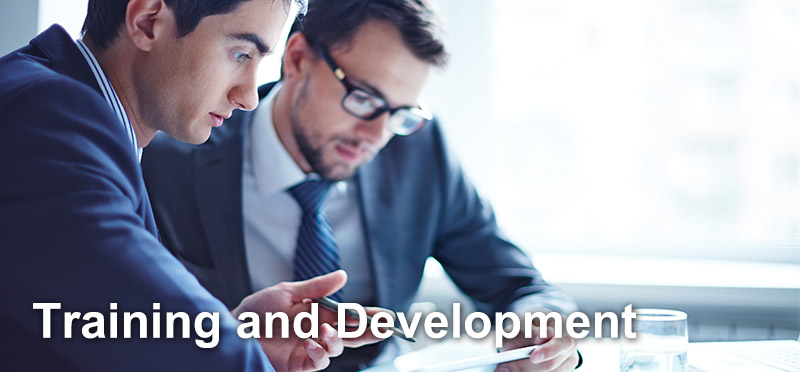 ROBUST adheres to the "people-oriented" philosophy and considers its employees the most import assets of the company. In order to facilitate employees' professional growth and career development, ROBUST provides them with a complete talent development system. ROBUST will also introduce a complete career development map and tailor-made training plans according to individual employees' ranks and posts to provide its employees with diversified talent incubation ways and resources and will build an environment most suitable for their long-term career development in which everyone is placed to their right positions and their personal development goals will be achieved simultaneously with the organization's development objectives!
All-round human resource development
Complete training system
Competence development training: offering training courses for the development of core competence required by the company and positions.
Vocational skill training: aiming to improve employees' work-related knowledge and operation skills required for serving their duties and achieving their development.
Stratified training for management: training aiming to develop and improve the management competence of executives at different levels and improve their business management performance.
General training: training of newcomers and internal lecturers aiming to establish quality awareness, safety and hygiene, computer, Chinese, and relevant knowledge and skills required for their jobs.
Self development education: channels/methods and resources planned by the company for employees' self study; employees are encouraged to use them to achieve self development and improve the company's human resources quality.
Complete career development map
This map is developed to urge employees to get necessary work-related competence and bring their personal potential into full play. The introduction of various "functions" enables the more focused and effective utilization of the company's resources. It provides a road map with clear objectives to all employees for their career development. The establishment of the road map is based on the duties of various departments and ranks for professional functions studying. Relevant knowledge and skills are planned, development suggestions are proposed, and important professional competence items are established in this map to help employees to develop their professional competence. An intranet query platform is available for employees to get an idea of their career development in the company. All employees can look up the vocational skills which they are expected to have, the studying and development route of these skills, the training resources provided by the company, and their training records at any time on the platform, which also provides a reference basis for a director to inspect and assist his/her subordinates to develop necessary vocational skills, measure their performance development, and decide promotion and salary adjustment.
Tailor-made studying & development plans
Tailor-made studying & development plans have been developed for individual employees through communication and discussion with their director according to their basic characteristics and competence and career development map. The application system makes it easy to review and trace employees' study results. It also enables employees to fully understand the planning and achieve their self studying & development objectives. Moreover, an employee's personal development plan is also closely related to his/her performance assessment results. The employee may get appropriate rewards and may be promoted, transferred, assigned project, …and etc., according to his/her performance. The availability of vertical and horizontal development opportunities offers the employee unlimited possibilities in his/her personal and career development.
Abundant learning resources
Various development plans are provided with abundant contents and resources through diversified channels, aiming to care for and promote people with promising talents.
Internal learning resources
Vocational skill map related courses-general training courses and professional/core/management courses covering a full range from fundamental to advanced knowledge and skills are provided according to the planned career development map.
Training for newcomers-specially designed for newcomers and covering fundamental courses such as corporate culture, company policy , quality policy, regulations for industrial safety and hygiene, orientation,…and etc., training courses are available to help newcomers to orient themselves to their organization and team.
Training of internal lecturers-aiming to develop excellent knowledge inheritors through teaching-oriented learning.
Chinese language training -courses on the Chinese language are opened within and outside the company and subsidies are provided to improve employees' command of the Chinese language.
Work innovation/project presentation seminars-Project/work innovation presentation seminars are held annually for employees to share the crystallization of their wisdom.
External learning resources
Rules governing management of on-the-job training of employees- as stipulated in these rules, subsidies are provided to employees taking training courses for associate's degree, master's degree, or doctor's degree; and ROBUST employees are encouraged to keep improving themselves.
Opportunities to receive domestic/overseas trainings-in addition to providing employees with training courses held by domestic public/private training institutions, consultant companies, and schools, FEBT also provides overseas training opportunities to its employees according to the company's business requirements.
Perfect learning environment
Dedicated training classrooms: the company's headquarters is provided with well-equipped conference rooms that meet the requirements of various training courses and help improving training quality.
Training management system: all training related operations, including submission of all education/training applications/reports and records query, can be handled through FEBT's education/training management system in the company's intranet.