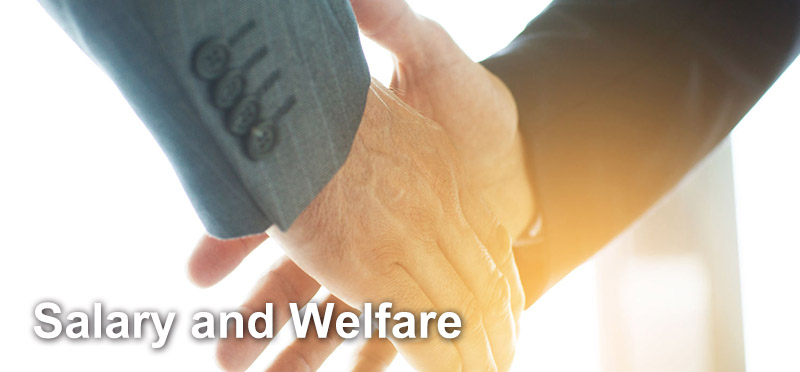 Salary
14 months' annual salary is guaranteed (including a half month's salary on the Dragon Boat Festival and Mid-autumn respectively and a month's salary on the Spring Festival).

Employees enjoy annual distribution of dividend and allotment of shares and the company's Employee Stock Option Plan according to their teams' and their personal performance.

Employees may get quarterly incentive bonus according to the company's operational status and their personal performance.

Annual salary adjustment is available according to personal performance.
Welfare
Employees enjoy labor insurance, national health insurance, labor pension, and free employee group insurance; also provided is a preferential dependent group insurance program(covering spouse, children, and parents).

The Employee Welfare Committee provides birthday cash gift, gift vouchers for the three major Chinese festivals, cash gift for May Day, and subsidies for wedding, funeral, and childbirth.

Free regular health checkups for employees.

Buying movie tickets, mall gift vouchers, and department store gift vouchers at preferential price on behalf of the employees.

Recreational Cafés are established inside the company.

Discounts available in several appointed stores in Taiwan.

Department dinner parties are held regularly every year.

Paid Time Off(PTO) available to employees who have served their positions for three months or longer.

Diversified travel allowances are available according to the seniority of employees; grand Family Day party and employee communication activity are held annually; other activities include a barbecue party on the Mid-autumn Festival, year-end dinner and lottery drawing activity, commendations of senior employees, and various welfare activities for employees.